PATRICK STEWART STAR TREK BIOGRAPHY!



Patrick Stewart is not just Captain Jean-Luc Picard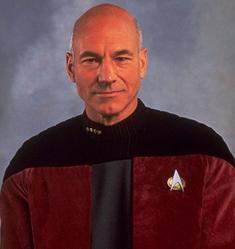 Patrick as Captain Jean-Luc Picard

A Frenchman with an English accent
Jean-Luc Picard
Patrick Stewart was discovered by producer Robert Justman for the role of the Captain of the Enterprise. During pre-production for Star Trek: The Next Generation, Justman and his wife visited a dramatic reading at UCLA (University of California: Los Angeles) that Stewart was participating in. He was so impressed by the Englishman's presentation that he remarked to his wife, "I think we've just found our Captain." He later said that he hadn't thought about Stewart before, but when he saw him on stage he was very sure that Stewart was the only one who was right for the part. Star Trek creator Gene Roddenberry wanted a Frenchman to play the part, so Justman arranged a meeting with Stewart, Roddenberry and Miklis. On October 10, 1986, Justman assigned the role of Data to Stewart. He still believed, however, that Stewart should be the Captain, and that no other actor could convince him or even Roddenberry otherwise. Roddenberry gave in after casting was completed and decided on Stewart after all, even though he did not fit Roddenberry's ideal image of who should play the role. The part was then tailored to Stewart. Today, Stewart says that he had no idea at the time that to many Americans, who sits in the Captains chair on the Enterprise is more important than who occupies the throne of England.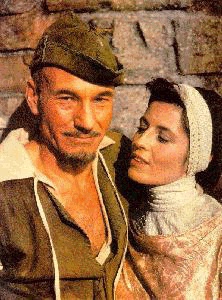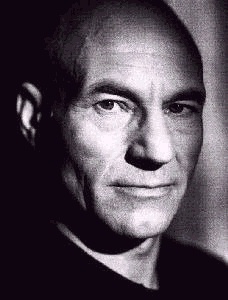 Patrick as Robin Hood and Patrick in a promotional shot

During his seven years on Star Trek, Stewart remained true to the stage. In 1994 he received two "Laurence Olivier Awards" for "A Christmas Carol", and was nominated "best actor" and "best entertainer." He was presented with the "Best Solo Act on Broadway" in 1992, and in 1993 was nominated for his LP-recording of "A Christmas Carol." In 1995 he appeared on the stage in New York City's Central Park in a huge free production of Shakespeare's "The Tempest."

In 1996 Patrick reprised his some 30 roles in "A Christmas Carol" in Los Angeles at the Doolittle Theater.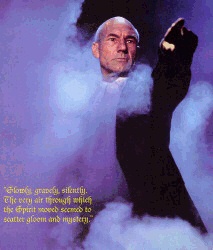 Patrick in "A Christmas Carol"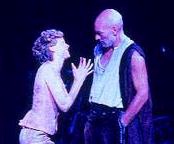 Patrick in the "Tempest"
Stewart also played leading roles in several films, such as "Death Train" with Pierce Brosnan, "Gunman" with Christopher Lambert and in "Jeffrey."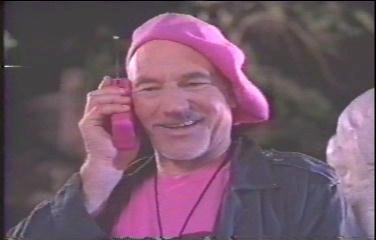 Patrick as Sterling in "Jeffrey"
In February 1994 Stewart hosted "Saturday Night Live". According to viewing statistics, that particular episode was rated one of the top five of the season. The largest television magazine in America, "TV-Guide," voted Stewart the "Most Bodacious Man on TV".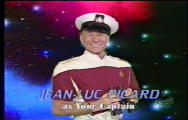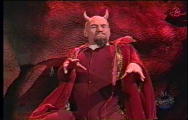 Patrick on "Saturday Night Live" as Your Captain and The Devil.

Patrick as Sir Simon de Canterville, a 400 year old ghost.

In 1996 Patrick produced the TV-Movie "The Canterville Ghost"
with himself as Sir Simon de Canterville.
Stewart has been committed to Amnesty International for years. He is also involved in the protection of animals, and in particular for Whales, at The Whale Conservation Institute. Patrick is also a fan of "MTV's "Beavis and Butthead" and has been known to wear a "Beavis and Butthead" T-shirt under his Starfleet regulation captain's uniform. Besides drinking Oriental Tea "HOT", he enjoys reading, is a roller-coaster aficionado, has a fondness for steam engine railroads, collects masks and World War I posters and playing "Tetris" on his Nintendo Gameboy given to him by his children.

In 1994 Patrick adopted a homeless cat found wondering the Star Trek sets. Bella is Patrick's feline companion and friend.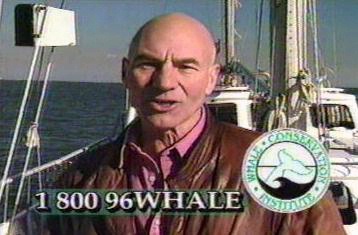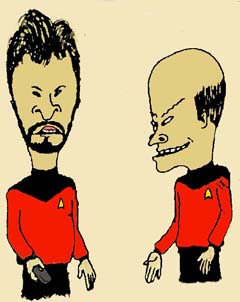 "Whale Conservation Institute" and Click on Beavis and Butthead to see "Aye, Aye, Captain!" A Quick Time movie.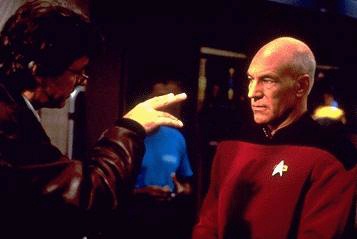 Patrick taking direction on "The Next Generation" set.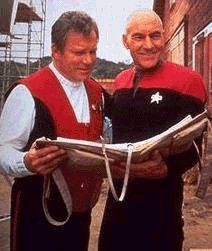 William Shatner & Patrick Stewart on "Generations"
After 25 years of marriage, Stewart and his wife, choreographer Sheila Falconer, have divorced. They had two children together, Daniel and Sophie. He was later engaged to script writer Meredith Baer. Patrick is currently engaged to the former Star Trek: Voyager producer Wendy Neuss. They met during production of Star Trek: The Next Generation.



Captain Picard giving the command to Engage!
In 1996, Patrick finished the 8th Star Trek Movie named Star Trek: "First Contact"
He plays again our Captain Jean-Luc Picard. Opening date was November 22 here in the USA. "First Contact" started November 21st in Australia and December 13th in the UK. Patrick's performance in "First Contact" is Academy Award winning. Rush out and buy it NOW!!!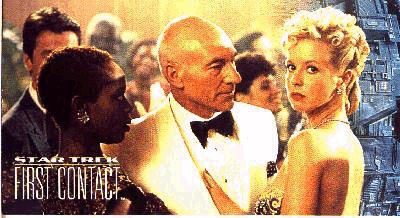 Patrick in a white dinner jacket as Dixon Hill in First Contact
Since "First Contact," Patrick has been keeping busy. He narrated the CD-ROM "Nine Worlds". He also narrated a biography of Captain James Cook. On Oct. 8th "Variety" reported that Patrick has agreed to star as Captain Ahab in "Moby Dick", for Hallmark Entertainment. In March 1996, Patrick filmed a movie called "Safe House". Patrick plays an ex-intelligence operative who faces his own mortality, with the onset of Alzheimer's disease. Patrick has also recorded a contribution to an audio recording called "The Silver Lining". Patrick performed Keats' "Sonnet to Sleep". You can also hear Patrick doing the voice-overs in the Porsche cars and Master Card commercials on TV and radio. Patrick narrated MGM, When The Lion Roars. Patrick has also done voice-overs for the leader, No. One of the Stonecutter's Club in The Simpsons and as the Pirate in "The Pagemaster" In Robin Hood: Men in Tights, he portrayed King Richard the Lionheart. On December 16, 1996, Patrick was honored with a Star on Hollywood's Walk of Fame in Hollywood California.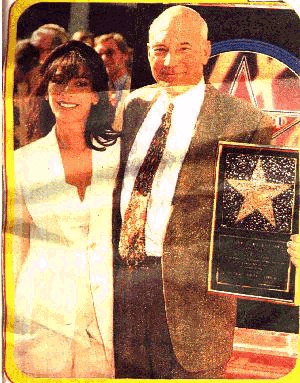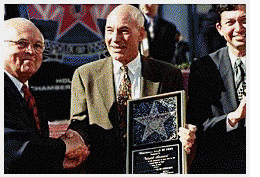 Patrick Stewart receives his Star on Hollywood's Walk of Fame, Dec. 16, 1996
with Marina Sirtis
Patrick has just finished filming Star Trek: Insurrection
Release Date is December 11th!




Gene Roddenberry created the series.
"STAR TREK: THE NEXT GENERATION"
is produced by Paramount Network Television and distributed by Paramount Domestic Television. Paramount Television Group is part of the entertainment operations of Paramount Communications, Inc., which is a majority-owned subsidiary of Viacom Inc.
ALL RIGHTS RESERVED COPYRIGHT &copy 1998!




Send mail to Mary Jensen





This home page created with Web 3D from Asymetrix.


Page designed by: Webmaster Mary Jensen
This page was last updated September 13, 1998